Hong Kong commercial property investment shows sharp decline
Regional metropolitan commercial real estate investment volumes slid by 36% as global economic uncertainty and China's slowing economy took its toll on market sentiment
According to Real Capital Analytics' latest Asia Pacific Capital Trends Report, commercial real estate transactions in Hong Kong continued to decline at 47% year-on-year to US$4.4 billion in Q1 2019, affected by domestic monetary tightening and the U.S.-China trade frictions.
The robust pipeline of pending transactions, amounting to around US$6.0 billion, however, may hint at a better performance to come later in the year, after the past three consecutive quarters of decline.
Petra Blazkova, RCA's senior director of analytics for Asia-Pacific, says: "Hong Kong's investment activity and property pricing have been affected both domestically, by monetary tightening, and externally, by US-China trade frictions. In the first quarter of 2019, pricing for office assets has moved out for the first time in five years. Office yields rose by 15 basis points compared with a year prior."
In China, flows from cross-border investors into the two largest investment markets presented a positive story amid the slowdown. Together, Beijing and Shanghai attracted 71% of the overseas capital into the country and Beijing leapt to the top of the list of most active metros for the first time in the first quarter of 2019.
The city's stand-out performance contrasted with most other markets as total investment volume across Asia-Pacific slumped by 36% year-on-year (YOY) compared with the same period of 2018. China's economic slowdown, its trade tensions with the US and the global downturn in demand for consumer products took their toll on property investment across the region.
Investments totalling US$4.5 billion lifted Beijing into pole position in the first quarter, from seventh place in 2018. Two mega-deals of over US$1.3 billion accounted for more than half of that figure. Hong Kong was nudged into second place among Asia-Pacific metropolitan markets with an investment volume of US$4.4 billion and Tokyo came in third at US$3.9 billion.
Blazkova, says: "Traditionally, Beijing was considered a government city, more than a major commercial real estate investment target. Cross-border capital flows, however, appear to be changing the nature of the market and the city is becoming more appealing to institutional investors."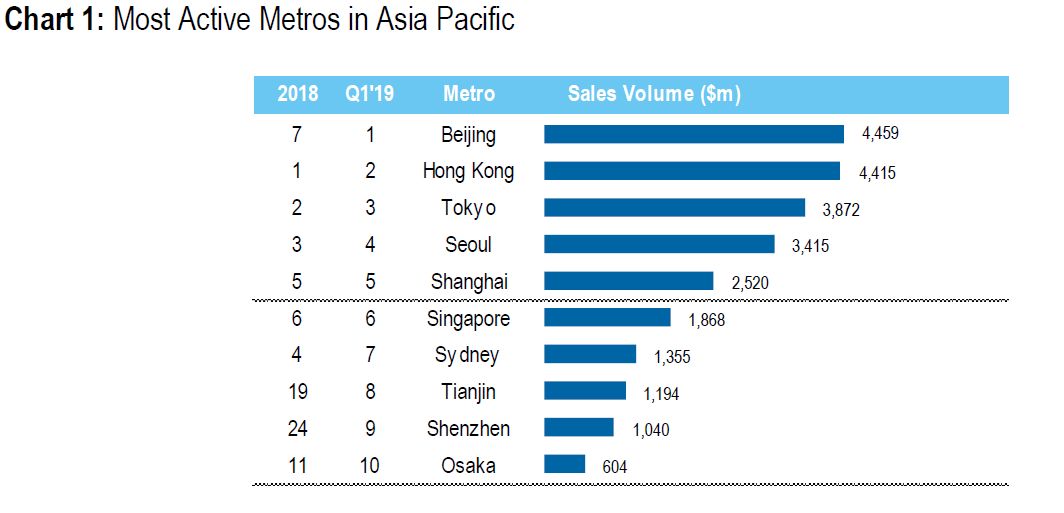 Beijing was one of only a few markets not included in the general regional retreat. Overall investment volume slid by 36% in the first quarter of 2019 to reach US$30.5 billion with Asia-Pacific markets struggling to match the elevated pace recorded in 2018.
Blazkova adds: "The markets are comparatively late in the real estate investment cycle and prices look high from a historical perspective. Global interest rates, however, remain relatively low and the count of pending deals is substantial in markets such as Hong Kong, China and India. On balance, these factors signal that the outlook for Asia-Pacific's investment markets for the remainder of the year may be more upbeat."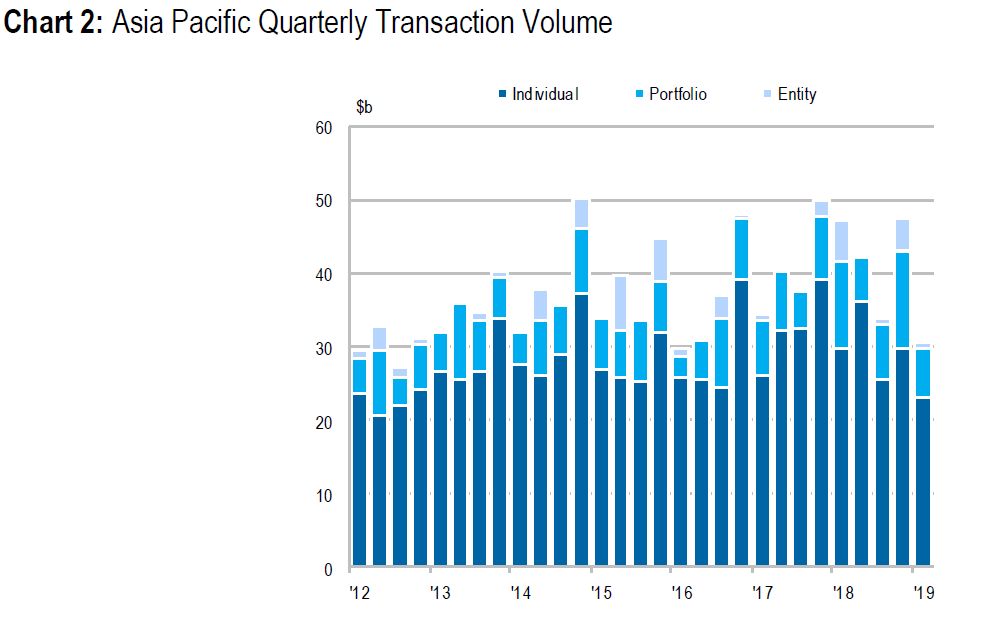 South Korea's investment volume dipped in the first quarter. Investors took a step back after a record year of activity in 2018 and in light of concerns about the impact of declining exports on economic growth.
In Australia, investment volume ebbed ahead of federal elections to be held on May 18. The biggest contributor to the decline was the pullback in cross-border capital.
More broadly, Australia is facing larger challenges with house prices falling for over a year, led by Sydney and Melbourne. The retail market too is under pressure.
In Japan, pricing is rich across the commercial asset classes and buyers and sellers have moved apart on expectations, putting the market at a standstill. Investment activity in the first quarter dropped to the lowest level in a decade.