From cost centre to value adders
Corporates in Asia look to internal finance functions to advise wider business
6 Dec 2018
|
Asset Benchmark Research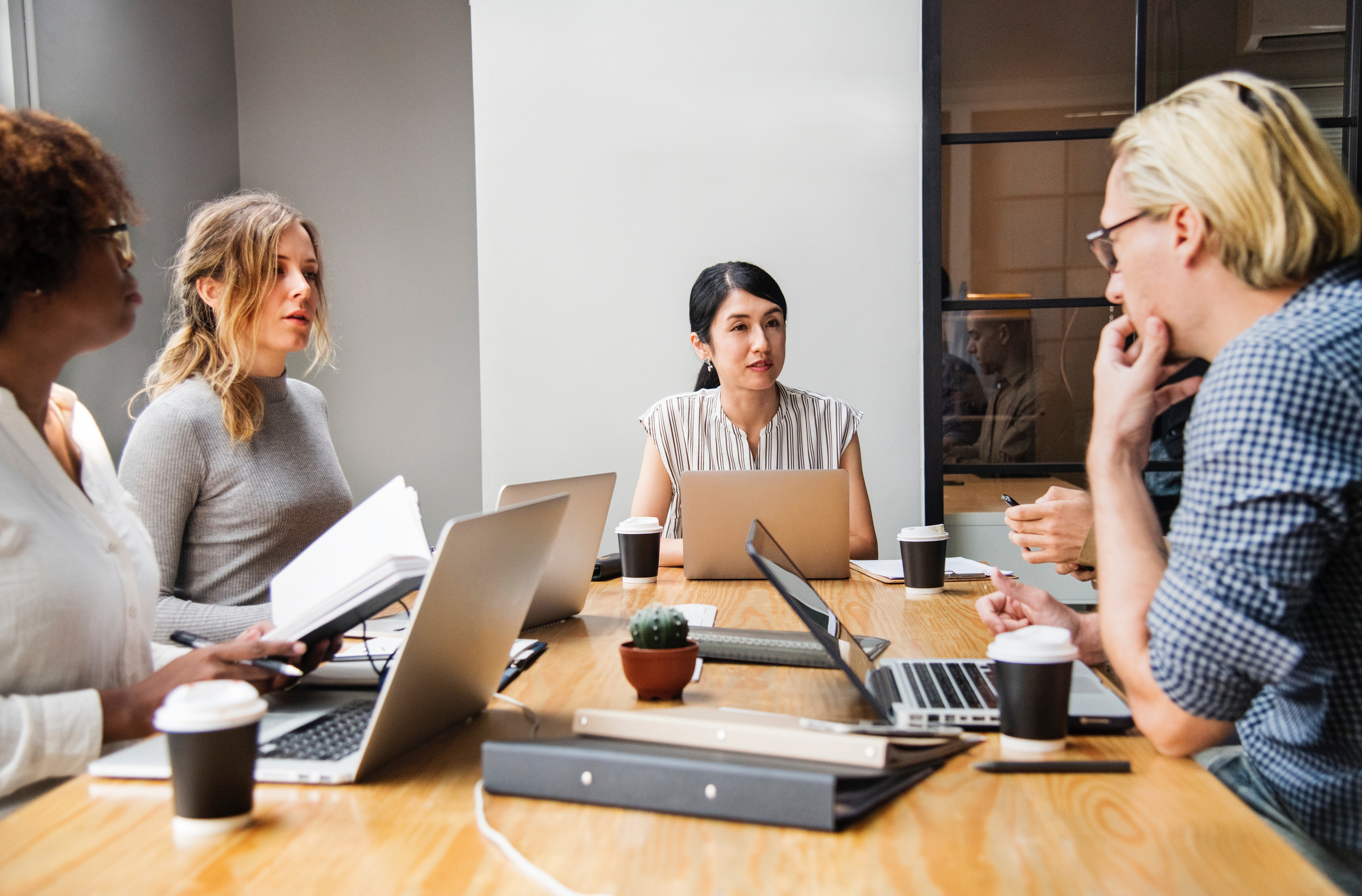 Four in 10 corporates in Asia plan to transform their finance departments into value adding advisory functions for the rest of the business by 2021, respondents in Asset Benchmark Research's latest Treasury Review state. Banks remain their closest advisors in the road to get there.
Only 10% of respondents feel their finance functions currently deserve the label "value adding", as most view them as nothing more than cost centres. Take Gary, for instance, who is controller for the Taiwanese operations of Colorador*, a Canadian headquartered producer of bespoke industrial equipment to a wide variety of commercial customers. His main activities have revolved around the month end close process, processing information fed to him and his small team of three management accountants and recording the economic substance of these transactions in journals.
Primarily a consumer of information from other divisions, the only time throughout the year Gary prepares reports for the benefit of others are during reporting seasons, when the central finance team in the headquarter office requires accounts for consolidation purposes. But during a recent visit of the group CEO, he realized that his role is that of a central conduit of information and his knowledge of the business made him an important advisor.
Asked during a forum by the CEO how to improve headline revenue, his sales colleagues struggled to come up with innovative ideas. So Gary gave it a try. An easy way would be to sell at more advantageous incoterms, he noted, so that risks and rewards pass to the carrier (or buyer) earlier and let Colorador recognize revenue straight away. The one-off increase in the next financial statements compared to the previous year, albeit only as a result of different cut-off point, could then be used as an argument to set up a factoring agreement with the company's bank. This in turn would allow Colorador to match and even exceed credit terms with those offered by peers. In the current competitive climate, financing costs for a factoring scheme will easily be offset by the increase in sales, he closed.
One month on, Gary heads a working group to understand how else his team can unlock value for the company at large. Many of his peers feel the same way, but are at a loss on how best to harness the data they work with every day and that has accumulated for decades. Only 6% of respondents to our survey said they have used tools to analyze their cash conversion cycle, including payables and receivables days and inventory turnover. No wonder that 21% of Asian corporates participating in the survey responded 'Yes, definitely' when asked whether a bank's ability to provide working capital insights would affect their decision to work with them. 30% said it would impact their decision "somewhat", with the majority of the remainder on the fence.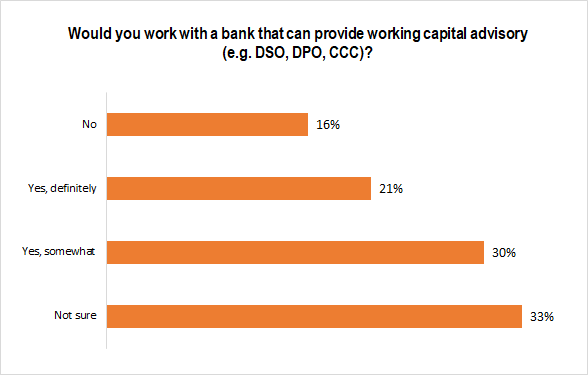 Rather than just selling its receivables, Colorador also decided to set up a more complex buyer finance programme on behalf of its suppliers. Mindful of the strong parent group rating and asset heavy balance sheet offering plenty of collateral, banks were happy to work with the company as the anchor buyer and thus allow its SME suppliers to sell its receivables. Colorador benefits indirectly from more beneficial credit terms and stronger ties to suppliers.
36% of respondents say they already operate a supply chain finance programme and a further 17% plan to launch one in the coming six months. By type, most respondents with an ongoing scheme say they run an accounts receivable purchase programme (67%) while 32% said they run larger scale supplier finance programmes on behalf of their suppliers.
The spread among corporates by size is noticeable. While 58% of large corporates run a supply chain finance programme, only 16% of SMEs said they do. However, 21% of SMEs said they would like to become a part of a wider scheme. This showcases the hopes smaller companies pin on their relations with larger customers in order to unlock working capital.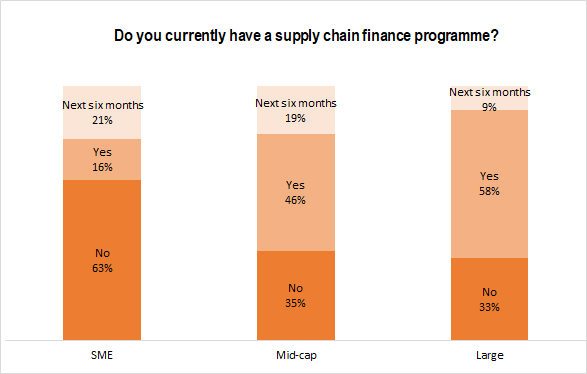 Regional penetration of supply chain finance schemes is roughly comparable in Asia, with the exception of China where fewer than 30% of corporates said they already run a scheme.
Colorador has benefited from managing working capital more actively, drawing on insights from the company's finance function. Even the overdraft has been turned to a sizable cash surplus at month end, which Colorador invests through its main banks. 98% of respondents in our survey similarly rely on banks for short-term corporate investment solutions. Only 2% choose asset management companies directly to manage short-term liquidity, through money market investment funds and other solutions. Having a strong partner has paid off for Gary and the company at large.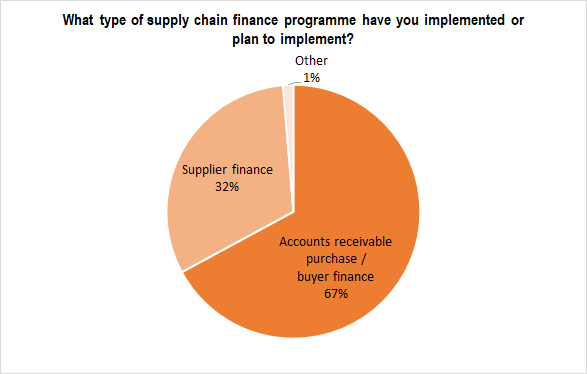 About Asset Benchmark Research's annual Treasury Review
Conducted since 2013, Asset Benchmark Research surveys corporates across Asia on an annual basis to understand the challenges corporate treasurers and CFOs face and the solutions they consider best suited to navigate financial markets. In 2018, a total of 1,141 corporate finance representatives participated in the survey, led by decision makers in Greater China, India and Singapore. Based on annual turnover, 50% of respondents are small and medium sized enterprises, 25% are mid-caps and 25% large corporations (>US$1bn turnover per annum).

Nearly 70% of respondents are C-level executives (finance directors, CFOs or above) or have managerial roles in the finance and treasury departments, while the remaining work in positions such as staff accountants.
*Names of characters are fictitious, their experiences are based on research findings. All quotes were provided by survey respondents.